Takeuchi US to Soon Make Full Lineup of CTLs at S.C. Plant
The company wants to be able to assemble all CTL models in the upstate South Carolina plant by the end of this year.
The article below originally appeared in
and is posted with permission from:
https://www.constructionequipmentguide.com/
After almost six decades as one of Japan's foremost makers of construction machinery, Takeuchi Manufacturing Co. Ltd. is recognized worldwide for its production of compact machines such as mini-excavators and track loaders.
The company has built and shipped its products across the globe from Nagano, Japan, since its founding by Akio Takeuchi in 1963. In the past 45 years, the company began to recognize that North America was becoming its most lucrative market. As a result, it started Takeuchi US in 1979 to distribute its products to contractors via U.S. and Canadian dealerships hungry for its compact equipment.
Eventually, that led Takeuchi to acquire factory space in Moore, S.C., just south of Spartanburg, in April 2022 with the intention of dedicating it solely to the manufacture of compact track loaders (CTLs).
By last September, production officially began on the machines at the 156,000-sq.-ft. facility, and in mid-April of this year, the equipment maker had turned out its 1,000th compact loader at the site, a model TL12R2.
Currently, four Takeuchi compact track loaders are coming off the assembly line in Moore: the TL6, TL8, TL10 and the TL12 models.
Jeff Stewart is president of Takeuchi US.
"For us, this plant represents a natural progression," said Jeff Stewart, president of Takeuchi US. "When you look at CTLs, the U.S. consumes about 95 percent of Takeuchi's production. They were made in Japan to begin with, but it just made sense to get the production closer to the most consumers. We started looking for a place to build a plant and we were very fortunate to find this facility here in South Carolina. After we bought it, production on our CTLs began as soon as possible."
The decision also eliminated the need to ship CTLs from an overseas facility to North American dealers and customers. As Takeuchi's global markets expand, the company expects to export some machines from the United States to other countries.
Stewart said that, for the foreseeable future, all Takeuchi CTLs built in Moore are strictly for U.S. consumption. Short term, the company wants to be able to assemble all CTL models in the upstate South Carolina plant by the end of this year.
"Our goal in the next 24 months is that we will make all Takeuchi compact loaders for the worldwide market from this plant and then start exporting them to other countries," he said. "The places that we primarily export to are Australia and New Zealand, and our sister company in France is selling a lot of them there. Each of those areas outside of the U.S. are where our CTLs are gaining in popularity."
Founder Created Mini-Excavators, Invented CTLs
Prior to launching Takeuchi Manufacturing, Akio Takeuchi was a supplier of machine components for other big companies in his native country.
Several years after his company was established, Takeuchi introduced the first compact excavator in 1971 after having been asked to create a small excavator that could work specifically on house foundations.
"A plumber friend of his out digging holes around houses wondered whether Mr. Takeuchi could make the job easier on him," said Stewart. "So, Mr. Takeuchi adapted the large excavator design by shrinking it down and putting it onto a 360-degree swivel platform so they could work closer to homes."
What he came up with was a versatile mini-excavator able to perform better than its larger counterparts, Stewart said, setting the stage for one of the highest growth product segments ever introduced in the compact equipment market.
Later, Takeuchi continued to lead the compact industry with the introduction of the first CTL in North America. According to Stewart, the company began selling that machine in 1986.
"Most people don't know that Mr. Takeuchi was the inventor of the compact track loader."
Since then, the popularity of Takeuchi CTLs has grown to the point that they are now the machine of choice for many contractors, Stewart said.
"We made a dedicated CTL," he said, "as well as purpose-built the frame of the machine, added the tracks to it and got the stability where it needed to be. When it comes to compact loaders, that design is our biggest claim to fame."
Partially Made CTLs Sent to South Carolina for Final Assembly
Today, Takeuchi's Japanese factories send its CTL components to the Palmetto State plant for assembly.
"They arrive here about 65 percent complete from Japan," according to Stewart. "We do some disassembly work to them where we take the arms and cabs off before performing all the sub-assembly of the arms as well as the whole front of the machine, the quick hitches, the hydraulic cylinders and the entire cab work."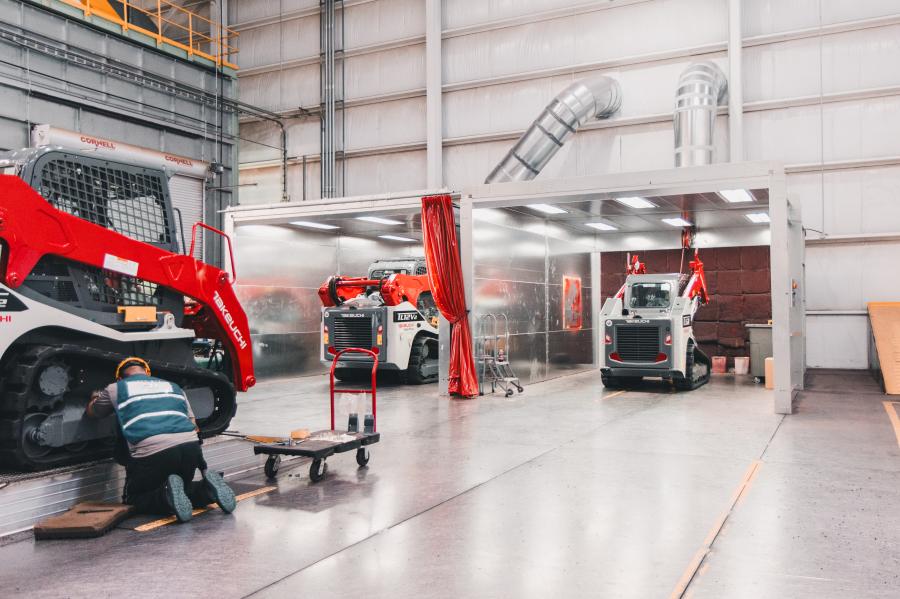 Following that, Stewart said, paint is applied to the arms, cylinders, quick hitches and many of the metal components underneath the machine. Everything that was disassembled is then put back together and re-installed onto the CTL in time to roll off the line.
"So, although we are building 35 percent of the loader here in Moore, our intention is that we will be at 100 percent in the next couple years," he said. "Plus, we will move from semi-knocked down [SKD] production, to CKD, or complete knocked down production, meaning we will build it from bare metal to finished machine before it goes out the door."
Stewart said Takeuchi US wants that to occur sometime in 2025.
"When we are up to full production here in South Carolina this November, we will increase our capacity by more than 50 percent over Japan's," he predicted, adding, "I think that when all is said and done, about 40 percent of the overall number of CTLs Takeuchi makes will be produced here in Moore."
Electric Over Hydraulic CTLs On Horizon
Takeuchi also is working to begin building its first electric over hydraulic compact loaders, starting with the TL11 model. Stewart said the company's equipment dealers are eagerly awaiting the new product, engineered to allow for much more flexibility regarding attachments and operator preferences.
The TL11 is not an electric machine, he clarified, but a diesel CTL controlled by electric over hydraulic functionality.
"Right now, all of our machines, except for our truly dedicated electric mini-excavators, have hydraulic pilot controls, meaning when an operator moves the handle it pushes a plunger that causes the pilot pressure to go down through the control valve to make the machine move," Stewart said.
"The TL11 will be different in that it will be electronically controlled with a pressure-sensing switch that will detect what it needs to do. It will send a pulse to the brains of the machine to change the control valve. That also gives the operator flexibility to change various other functions and set it to work exactly as he or she wants it to."
Takeuchi US Working On More Eco-Friendly Products
In recent years, Takeuchi has been moving toward engineering construction equipment that relies on electric vehicle (EV) technology and, as a result, has seen good sales numbers from its first EV battery-operated mini-excavator, the TB20e model.
That has led the manufacturer's designers to put three more electric excavator models on the drawing board, including five-, four-, and one-ton machines, said Stewart.
Takeuchi's efforts are part of its green initiatives and a desire to be a good steward of the global environment. For instance, he noted that the equipment maker has invested more than $3 million just this year to install solar panels in its American facilities, with goal of becoming carbon neutral by the midpoint of next year.
He cautions, though, that EV technology is still in its infancy and there are challenges that need to be overcome.
"The construction equipment industry is behind the car industry when it comes to EVs, but we are catching up with them," Stewart said. "The problem that we have, obviously, is the cost. You can make a car battery larger and do different things with it but trying to fit a battery that we need into a compact excavator raises that cost substantially. Of course, our engineers are working tirelessly to adapt and make batteries smaller, thereby reducing the cost. Right now, though, that is the biggest barrier I see to full entry into the market.
"We have made our TB20e probably more friendly than anybody else's," he added. "You can charge it on a 110 triple charge while you run the machine, you can charge it on 220 volts to power it up at night, or you can do it on an off-board 480-volt charger. So, we have put the time and energy required to power our machines into the consumer's hands." CEG