The Latest in Stand-On Mini Loaders:
Stand-On Mini Loaders: Doing So Much More Than Loading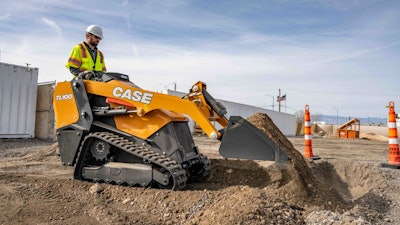 Source: Case Construction Equipment
This article originally appeared on EquipmentWorld.com – a leading media site serving up the latest news in construction, heavy equipment, pickups and everything else that helps you get the hard work done.
The new Case TL100 has an ROC of 1,000 pounds. The engine is rated at 25 horsepower. The standard auxiliary hydraulic system provides 13 gallons per minute at 2,700 psi. Five years of Case SiteWatch telematics is included.
The "compact utility loader" name fits for these popular machines … almost.
These little stand-on workhorses are compact and offer great utility, but they're much more than just loaders.
To gain a deeper appreciation of these machines, we spoke to Bobcat, Case, Dixie Chopper, Kubota, Toro and Vermeer for insights on the CUL's features and benefits.
Though compact utility loader is the name we tend to stick to, some OEMs refer to them as mini skid steers or mini track loaders. Though the trend in new models is toward tracks, a few wheeled models are still available.


Bobcat

Source: Bobcat
Operating weight of the Bobcat MT100 is 3,390 pounds. ROC is 1,000 pounds; carry position ROC with standard counterweight in the undercarriage position is 1,300 pounds. The 3-cylinder diesel engine is rated at 24.8 horsepower. Auxiliary flow is 12 gallons per minute, and system relief pressure at the quick coupler is 2,900 psi. Travel speeds are 4.1 forward and 2.9 mph reverse. Bucket pin hinge height is 80.9 inches, and reach at maximum height is 18.6 inches.BobcatJulie Portillo, Bobcat marketing manager, sums up the appeal of compact utility loaders: "They're a great option whether operators are looking to downsize to a more maneuverable machine or upgrade from wheelbarrows and hand tools, thereby reducing manual labor."
Bobcat has one model, the MT100, which is configured to further enhance versatility beyond what is inherent in a CUL. The exclusive Bob-Tach attachment mounting system is standard and makes it simple to mount a wide range of Bobcat attachments – 35, at last count.
The key advantage is consistent attachment mounting performance for the life of the machine due to the over-center latch mechanism and wear-compensating pins. An optional Common Industry Interface (CII) design is available. The over-center latches and pin-on design of the CII provide convenience and confidence for use with non-Bobcat attachments, the company says.
Standard tracks yield ground pressure of 5.25 psi for minimal surface disruption and keep overall machine width to 36 inches. Optional LGP (low ground pressure) tracks drop ground pressure to 3.97 psi while keeping overall width to 41 inches.
Counterweights are standard with the MT100 and can be mounted in the undercarriage or at the rear. Track rollers are sealed and run in an oil bath for continuous lubrication; rollers and idlers are heat treated for longer service life. Access to common maintenance points is tool-free.
Case
Case entered the compact utility loader market when it debuted its TL100 (photo at top of the article) at ConExpo 2023.
"Today's contractors need more ways to get work done with fewer hands, as labor shortages continue to challenge the industry," says Ryan Anderson, product manager, subcompact equipment, Case Construction Equipment. "That means they need compact machinery that can power a wide range of attachments, which reduces manual tasks and gets the work done quicker without sacrificing the power and durability they expect from a machine investment."
Typical applications include digging, earthmoving, setting fence posts, grappling brush, grading and snow removal.
The TL100 uses a CII that's compatible with a wide range of attachments, including 40 offered by Case. The standard auxiliary hydraulic setup and optional 14-pin electrical connector deliver optimal attachment performance, while hydraulic pilot controls provide intuitive operation and reliable feedback, the company says.
Dixie Chopper

Source: Dixie Chopper
The Dixie Chopper Talon M/S 700HPX features a Kubota engine rated at 24.8 horsepower, 3,000 psi auxiliary hydraulics with 11.3 gallons per minute high and 8.7 gpm low flow, and travel speed of 4.5 mph. Weight with no attachments is 2,880 pounds. ROC is 707 pounds. Track width is 9 inches, and ground pressure is 4.21 psi.Dixie ChopperYes, that's right. Dixie Chopper, one of the most respected names in mowing, has a compact utility loader, the Talon M/S 700HPX. "Talon" is a chassis design, and "M/S" refers to "mini skid steer."
(Note: A remote-control mower is also built on the Talon chassis, the Talon R/C, for use on steep slopes and in other conditions where zero-turn mowers struggle or pose safety concerns.)
An expandable undercarriage is a key feature of the 700HPX. With the undercarriage retracted, overall machine width is just 34.5 inches for a little extra room when squeezing through a 36-inch gate. When extended, the undercarriage provides 43.5 inches of width for enhanced stability.
"Our 700HPX addresses a major concern in the CUL market," says Eli Kean, marketing manager, Dixie Chopper. "Where most OEMs have a narrow track unit and a wider track unit, our Talon M/S is a single model with the versatility to expand the tracks depending on the project or property at hand."
The operator platform has advanced suspension for all-day comfort, while twin joysticks provide low-effort, intuitive control, the company says.
Kubota

Source: Kubota
The vertical-lift SCL1000 from Kubota is powered by a turbocharged Kubota engine rated at 24.8 horsepower. ROC is 1,000 pounds. The hydraulic pump is directly connected to the engine for reduced maintenance and provides 15 gallons per minute of auxiliary flow. Cushioned loader boom cylinders and adjustable suspension on the operator's platform isolate the operator from shock, the company says.KubotaKubota's SCL1000 is 36 inches wide with the standard bucket; two other buckets are available.
The 9.8-inch-wide tracks provide low ground pressure of 4 psi with an operator on board. Travel speed is 4.9 mph forward and reverse.
The adjustable hydraulic flow and maximum 15-gallon-per-minute auxiliary flow enable enough hydraulic performance to match a wide range of attachments, while the CII makes it easy to change them.
"Pallet forks are a common attachment, as are augers, trenchers and concrete breakers," says Jerry Corder, Kubota product manager, construction equipment. "Also available for the SCL1000 are stump grinders, grapples and power rakes."
A passcode start provides keyless operation and helps the owner control machine access.
Toro

Source: Toro
The Toro TX 1300 is powered by a Yanmar diesel engine rated at 37 gross horsepower. ROC is 1,300 pounds, and operating weight is 3,858 pounds. Traction drive relies on dual hydrostatic pumps and features Toro's patented traction control system. The pressure-relieving quick coupler system makes it easy to swap attachments, the company says.ToroToro has the widest range of CULs with 14 models, including 10 diesel, three gas and one electric. Some are variants of the same model, one with wide tracks and one with narrow tracks. Also in that mix are three wheeled models, including the electric eDingo 500.
The eDingo 500 fits a wide variety of applications but is especially suitable for indoor work or anyplace noise or exhaust fumes are a consideration. Powered by Toro's HyperCell Power System with lithium-ion battery, the eDingo provides a run time of hours and quick charging using the on-board charger. There is also on-board cord storage and a 1,200-lumen work light. Width is 31 inches, and rated operating capacity is 515 pounds.
The diesel TX 1300 features Intelescope loader arms with SmartLoad technology for an additional 26 inches of reach and hinge pin height of 109 inches.
"Designed with the contractor in mind, this machine solves specific reach-related challenges and offers the ability to empty into Dumpsters or reach new heights for tree work," says Kyle Cartwright, marketing manager, Toro.
Hydraulics and loader arm functions are integrated in one thumb-operated controller. One hand can be used to control the loader arm and auxiliary attachments, while the other manages drive, which features the Toro patented traction control system
Vermeer

Source: Vermeer
The Vermeer CTX160 has a Kohler diesel engine rated at 40 horsepower. The dual-flow auxiliary hydraulic system provides 16.7 and 9.4 gallons per minute; hydraulic system pressure is 3,045 psi. Hinge pin height on this vertical-lift CUL is 88.75 inches. ROC is 1,600 pounds. Weight with the standard bucket and 9-inch tracks is 4,120 pounds.VermeerVermeer has five models of CULs, offering both gas and diesel options and ROCs from 500 to 1,600 pounds at 35% of tipping load.
Kyle Newendorp, Vermeer product specialist, provides guidance on selecting the right CUL:
Controls – Vermeer uses ISO-pattern joysticks. While not universal, the ISO-pattern control option is common on compact equipment and familiar to most operators. Also, some CULs have controls using pushbuttons, toggle switches or foot-operated buttons. Newendorp says these are less intuitive than joystick controls and harder to use in uneven terrain.
Operator environment – Newendorp says Vermeer's integrated design puts the operator "in" the machine, rather than "on" it as with models that have the operator's station cantilevered off the back, for a better operator experience. Key considerations are visibility, comfort and ease of access.
Vertical vs. radial – As is true with other compact equipment, vertical lift works better for above-grade operations, while radial lift works better on or below grade. Grapples and pallet forks are well matched to vertical lift machines, while augers, trenchers and vibratory plows work well with radial lift. Buckets work well with either, depending on whether the work is up high (loading) or down low (digging, grading and spreading).
"As with all equipment investments, the key is to understand your applications and choose the machine that best fits your needs," says Newendorp.